The defining feature of this neighbourhood is the Cedarvale Ravine, which cuts a wide diagonal swath through the middle of Cedarvale. This ravine provides numerous recreational opportunities.
Cedarvale has an established Jewish community that has grown up around the Holy Blossom Temple and Beth Tzedec Synagogue, which are both situated on Bathurst Street.
History
Cedarvale's residential development began in 1912 when Sir Henry Mill Pellatt, the builder of Toronto's famous Casa Loma registered a plan of subdivision for the south end of this neighbourhood under the name "Cedar Vale". Vale denoted the ravine that runs through the centre of this neighbourhood and the Cedar part of the name makes reference to the many cedars that grew in the wet lowlands of the ravine.The Cedarvale Ravine which has long been the foundation of this neighbourhood was threatened
in 1966, when the proposed Spadina Expressway was slated to run straight through the ravine on its way downtown. Some Cedarvale houses were expropriated and the floor of the ravine was clearcut to make room for the expressway.
Fortunately strong opposition to the expressway was voiced throughout the city and in 1974 the decision was made to stop the Spadina Expressway (officially called the W.R. Allen Road ) at Eglinton Avenue, thus preserving the centrepiece of this popular Toronto neighbourhood.
Homes
Cedarvale's Tudor and Georgian style houses were built mostly between 1920 and 1950. The bigger and more expensive Cedarvale homes are on premium lots overlooking the ravine.
Cedarvale's interior streets contain a mix of good size family homes and sturdy little starter homes. There are also a number of multi-plex houses and walk-up apartment buildings located on the periphery of this neighbourhood.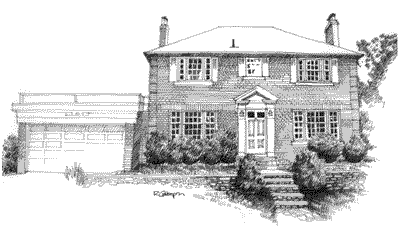 Lifestyle
Eglinton Avenue West is one of Toronto's most glamorous and ritzy shopping districts. Included in the mix are high end fashion stores, gift and home improvement stores, specialty food shops, professional services and an excellent variety of restaurants.
The shopping district further west along Eglinton Avenue and on Vaughan Road between Oakwood Avenue and Dufferin Street features the largest concentration of Caribbean shops, restaurants, and services in Toronto.
Recreation
The Cedarvale Ravine can be accessed through Cedarvale Park at Ava and Everden Roads. This ravine is enjoyed by walkers, cyclists, joggers, bird watchers and in the wintertime cross country skiers. Cedarvale Ravine is part of the historic Belt Line Railway path - an old commuter railway right of way - that dates back to the 1880's.
Cedarvale Park located at the north end of the ravine provides local residents with a multi-use recreational space that includes tennis courts, playing fields and the Phil White indoor ice arena.
Transportation
Bus service on Bathurst Street, and Vaughan Road connects passengers to the Bathurst station on the Bloor-Danforth subway line. The Eglinton Avenue Road West bus connects passengers to the Eglinton station on the Yonge-University-Spadina subway line.
Motorists are just minutes from the Allen Road Expressway at Eglinton Avenue. This expressway feeds into Highway 401 and its network of commuter highways. Bathurst Street is a main arterial road that provides quick and convenient access